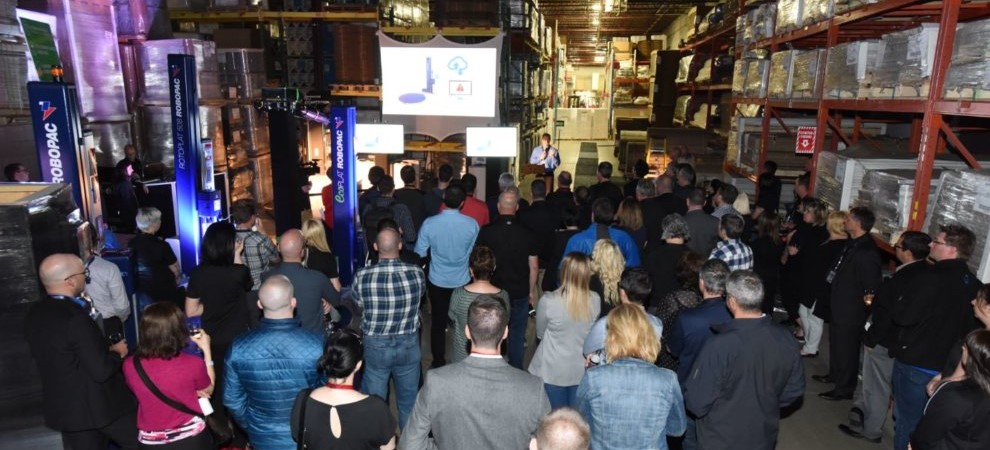 Un événement équipement conquis par Jules
Available in French only
Last update: 25 May 2018
Estimated reading time: 4 minutes
Categories: Culture & Innovation, Equipment, Event
Pour une troisième année consécutive, CARTIER fait la promotion de l'automatisation par les voies de son Événement équipement, Une démo vaut mille mots. Une édition record où plus d'une centaine de participants a répondu à l'appel et une journée de choix pour faire le lancement d'une technologie 4.0!
UNE FORMULE QUI GAGNE EN POPULARITÉ
Nous avons eu un taux de participation record comparativement aux précédentes éditions et nous avons même dû y ajouter des places supplémentaires par rapport à nos prévisions initiales! Au-delà de la fierté de pouvoir contribuer à organiser un événement qui rejoint la clientèle industrielle, nous sommes heureux de constater l'engouement autour de l'automatisation. Notons que c'est un réel enjeu pour les entreprises d'ici qui accumulent un retard important à ce niveau par rapport au Canada et à nos voisins américains, affirme Yvan Lapointe, Directeur Général – Ventes et marketing chez CARTIER.
L'événement a pour objectif de rassembler sous un même toit toutes les solutions d'automatisation de l'emballage et faire la promotion de ses bénéfices via de réelles démonstrations. Cette formule gagne en popularité puisqu'elle permet aux participants de maximiser leur temps. Elle s'ordonne en plusieurs stations regroupant plus de 25 équipements en démonstration toutes les 30 minutes. Les participants choisissent ainsi leur parcours selon leurs intérêts. Les démonstrateurs sont des experts-techniciens, des chargés de projets ainsi que des chargés de comptes chez Cartier qui partagent leurs connaissances. Couvrant l'ensemble de leurs questionnements, les participants sont ainsi mieux outillés pour prendre des décisions éclairées.
JULES, LE PETIT NOUVEAU, PERFORMANT EN TEMPS RÉEL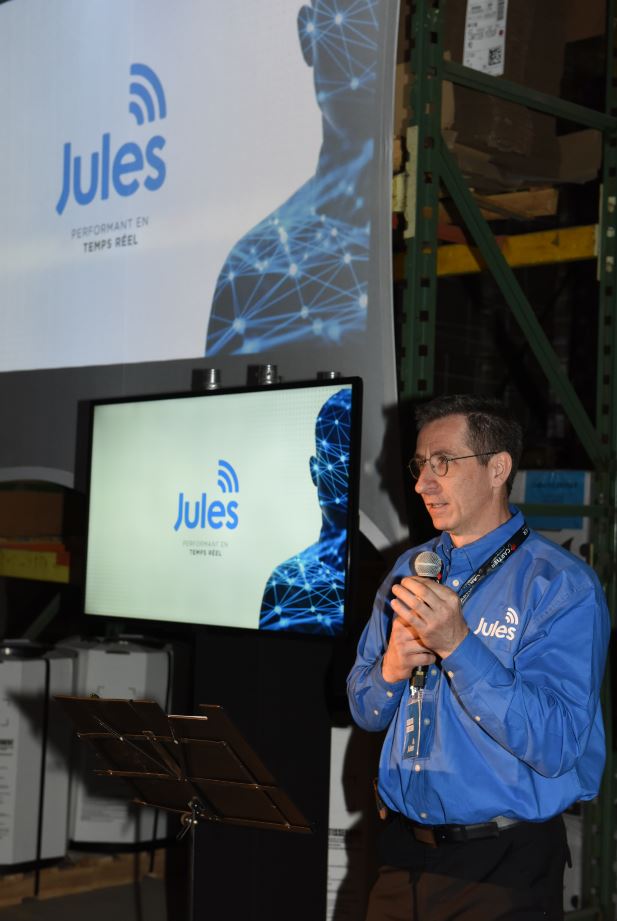 Cette journée s'est avérée la parfaite occasion pour réaliser le lancement d'une technologie 4.0 exclusive et conçue pour des emballeuses à pellicule étirable. C'est sous un air musical électronique nous mettant dans l'ambiance qu'a pris place une mise en scène permettant de saisir rapidement les bénéfices apportés par cette technologie, les bénéfices apportés par Jules.
Le principe est simple, Jules nous a permis de détecter, en temps réel, un scénario problématique d'emballage.
Avec toutes les interventions réalisées auprès de nos clients, nous faisons souvent face à ce type de scénario où le pré-étirement est anormalement bas. Ça peut sembler anodin, mais pour une entreprise qui emballe 200 palettes par jour, cette situation peut s'exprimer en pertes financières oscillant entre 5 000$ et 7 000$ par trimestre, exprime Jocelyn Legault, Directeur des services techniques.
Cette situation a ensuite rapidement été réglée, puis l'ensemble des participants présents ont pu voir à nouveau, en temps réel, l'impact concret des interventions de Jules, jumelés à une équipe technique.
Jules a été développé et conçu pour optimiser les emballages en s'assurant que les paramètres optimaux sont respectés. Lorsque l'emballeuse dévie des paramètres efficaces, le système avertira les techniciens chez CARTIER afin de minimiser les bris, le gaspillage de pellicule et les coûts.
Jules avertit nos clients d'un problème avant que les coûts augmentent, que l'emballage perde en fiabilité ou qu'il provoque des bris de marchandise, souligne Jocelyn. Ça donne aux entreprises un meilleur contrôle sur leurs opérations et leurs coûts. Jules permet d'économiser tout en étant écoresponsable,  ajoute-t-il.
OPTIMISER LES EMBALLAGES, ET PLUS ENCORE!
Nous sommes fiers de contribuer à rendre, grâce à Jules, des usines plus intelligentes. Mais surtout, contribuer à ce que des recettes optimales d'emballages soient respectées. Jules s'inscrit parfaitement dans la philosophie de CARTIER et est le résultat d'un travail acharné de plusieurs mois.
Avec Jules, nous proposons à nos clients d'aller encore plus loin dans l'optimisation de leurs emballeuses, explique David Cartier, Président.
Jules veillera quotidiennement sur le rendement et l'efficacité des emballeuses.
Ça nous permet de faire passer nos clients à l'ère de l'usine 4.0, explique David. C'est une façon de mettre à profit l'intégration des nouvelles technologies en plein cœur de leurs activités de production. Avec Jules, conclut David Cartier, nos clients profitent de la tranquillité d'esprit qu'apporte l'assurance que leur emballage et leurs coûts sont suivis de près.
Encore merci à tous les participants pour leur présence lors de cet événement ainsi qu'à nos précieux partenaires qui ont contribué au succès de cette journée!
À LIRE AUSSI :
– Cartier innove avec Jules, une solution où la connectivité rencontre la rentabilité 24/7
The Cartier team also suggests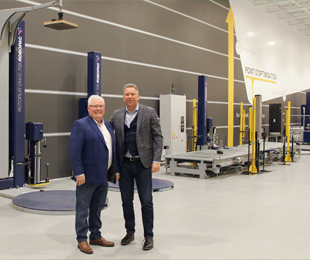 Culture & Innovation
Categories: Culture & Innovation
"This acquisition is fully aligned with our vision to be a leader in environmentally responsible packaging solutions in Eastern Canada for manufacturing industries and distribution centers that wish to optimize their secondary and tertiary packaging," says David Cartier, President of CARTIER Packaging.
En savoir plus >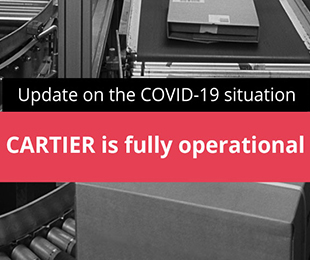 Culture & Innovation
Categories: Culture & Innovation, E-commerce, Écoresponsabilité, Equipment, Événement, Event, Laboratory, Leadership, Press Release, Products, Revue de presse, Technical, Témoignages, Testimonials
En savoir plus >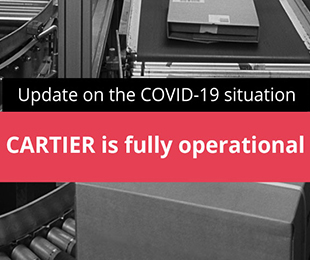 Culture & Innovation
Categories: Culture & Innovation, E-commerce, eCommerce, Écoresponsabilité, Equipment, Événement, Event, Laboratory, Leadership, Press Release, Products, Revue de presse, Technical, Témoignages, Testimonials
En savoir plus >