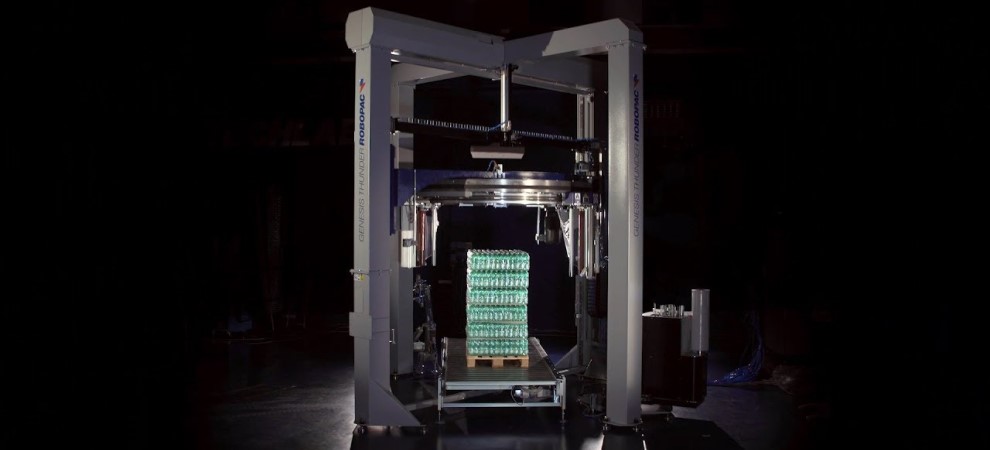 Robopac nous donne un avant-goût du futur
Available in French only
Last update: 20 September 2017
Estimated reading time: 3 minutes
Categories: Equipment
En tant que partenaire et distributeur officiel des équipements de Robopac, nous sommes fiers d'annoncer que la division Systems (emballeuses complètement automatisées) nous a donné un aperçu du futur en présentant la Genesis Thunder, la nouvelle machine à emballage automatique haute vitesse avec anneau rotatif, au Drinktec 2017, à Munich, du 11 au 15 septembre dernier.
Poursuivant sa mission de renouveler et d'optimiser l'ensemble de ses modèles, l'entreprise familiale lance une nouvelle génération d'équipements d'emballage  à anneau de haute performance avec Cube Technology.
Cube Technology garantit la bonne quantité de film étirable, aux endroits stratégiques en appliquant également la bonne force pour s'assurer que la marchandise soit correctement sécurisée. Cette triple combinaison assure la juste utilisation de pellicule étirable ce qui se traduit en d'importantes économies en termes de consommables, tout en améliorant la fiabilité de l'emballage pour ainsi diminuer les dommages causés à la marchandise durant le transport.
Genesis Thunder est issue à la fois des activités de développement et d'innovation sur les emballeuses haute performance à anneau tout en conservant leurs caractéristiques exceptionnelles qui ont assuré leur succès jusqu'aujourd'hui.
Robopac : plus vert que jamais!
Les avantages évidents offerts pour l'environnement comprennent non seulement moins d'utilisation de matériaux et donc moins de rejets pour l'environnement, mais aussi moins de produits endommagés et de pertes, ce qui implique moins de gaspillage ou de ressources sollicitées pour la réexpédition ou  le remplacement de marchandise.
Des caractéristiques qui font envier la compétition
La Genesis Thunder ne dispose d'aucun contact électrique coulissant, ce qui signifie qu'elle convient à tous les environnements industriels (même les environnements poussiéreux) et garantit également la sécurité des opérateurs ainsi que moins de temps d'arrêt.
Robopac travaille sur la conception et les brevets de cette solution technologique depuis le milieu des années 1990. Son succès croissant sur les marchés mondiaux lui a imposé une grande rigueur pour adapter son offre aux particularités et législations techniques de chaque région, apportant ainsi des mises à niveau continues au fil du temps.
En plus de réduire l'usage de matériaux d'emballage, la Genesis Thunder réduit également considérablement le coût total de possession (TCO). Cet équipement est conçu avec des composantes de haute qualité et dont la durée de vie est supérieure à la moyenne. De plus, ces éléments allongent l'intervalle entre chaque maintenance.  
Cet équipement assure également un excellent équilibre structurel, ce qui procure une plus grande capacité de production, plus élevée que toute autre machine actuellement disponible sur le marché. La Genesis Thunder garantit une ergonomie complète, et ce, sans compromis sur la sécurité!
Des options qui font la différence
La nouveauté présentée à Drinktec 2017 comprend également le système ARC : une unité motorisée brevetée qui remplace automatiquement le rouleau de pellicule sans l'intervention de l'opérateur. Elle présentait également un dispositif de plissage variable (roping) qui réduit la hauteur de la pellicule étirable créant ainsi une bande ayant pour but de stabiliser la charge. D'autres caractéristiques telles que le Nip / Tuck Tail assurant l'étanchéité de l'emballage ont également été présentés.  
La vision de Robopac est claire, et rejoint celle de CARTIER :
L'innovation pour Robopac est sans fin. L'objectif est de se propulser vers l'avenir, de prévoir ce dont tous nos partenaires auront besoin dans les prochaines années afin que nous puissions fabriquer des machines qui offrent des performances toujours optimisées, combinées à une fiabilité et à une sécurité accrue. À travers ces étapes, les produits palettisés seront plus stables pour les clients finaux, en fonction des attentes et des besoins de la production industrielle et des installations logistiques, aujourd'hui et demain.
The Cartier team also suggests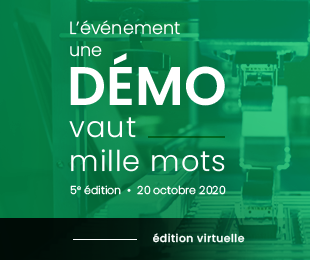 Equipment
Categories: Événement
For the fifth consecutive year, CARTIER will be holding its polpular Equipment Event (A demo is worth a thousand words ) and, this year,  the formula will be VIRTUAL. On October 20th, you will be able to visit over 30 booths and attend 11 live demonstrations.
En savoir plus >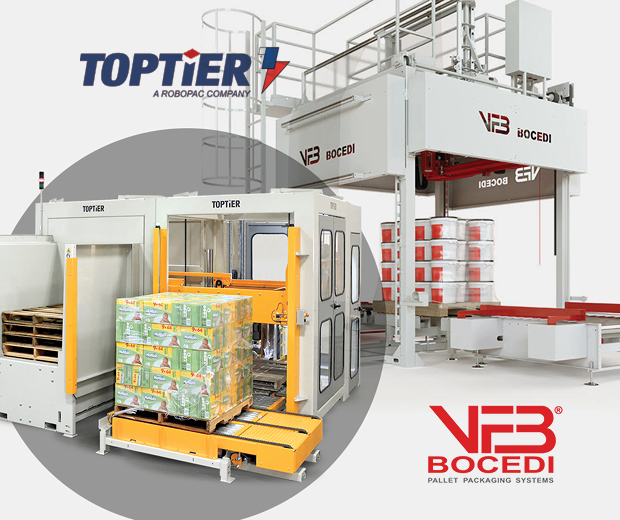 Equipment
Categories: Equipment, Press Release, Revue de presse
CARTIER, Packaging. Optimized. has expanded its offer of packaging equipment and solutions to incorporate products from world leaders Bocedi and TopTier into its already wide selection.
En savoir plus >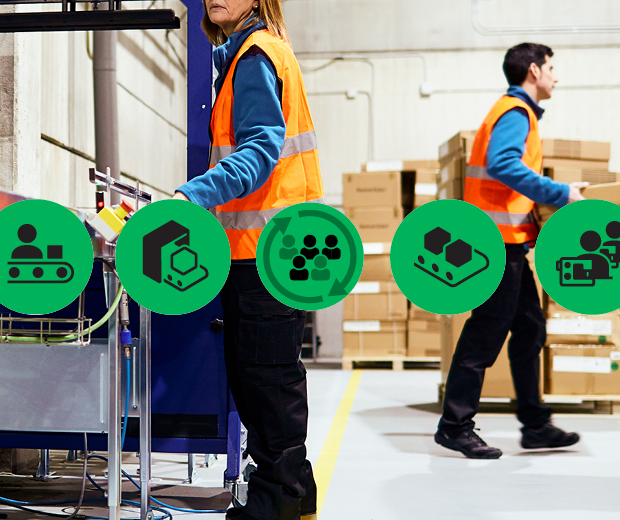 Equipment
Categories: Equipment
How are you coping with the labour shortage? By automating your packaging processes, you can free up employees to reassign to value-added tasks. Discover the many advantages of automation for SMEs in the current business environment.
En savoir plus >