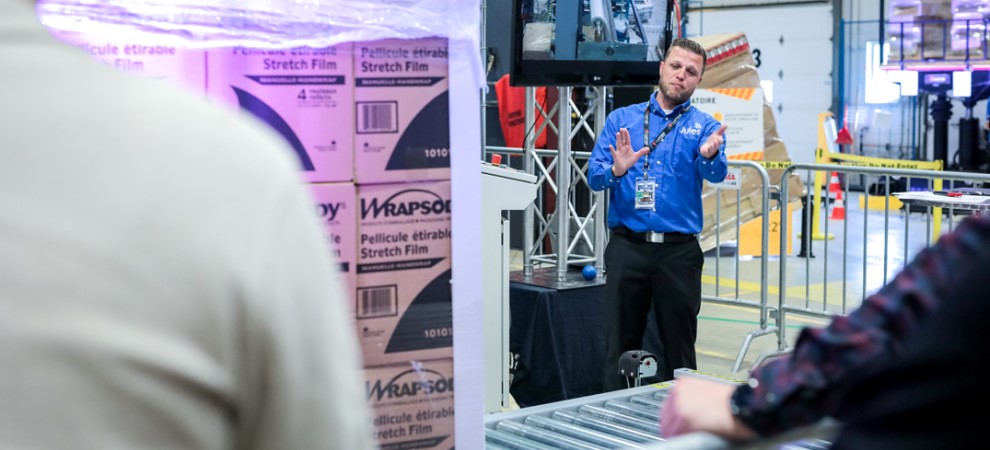 Un engouement sans précédent pour la 4e édition de l'événement équipements
Available in French only
Last update: 16 May 2019
Estimated reading time: 4 minutes
Categories: Equipment, Event
2019 marque un taux d'inscription record pour la 4e édition de l'événement équipement qui avait lieu le 8 mai dernier, à nos bureaux. Cette année, plus de 130 personnes se sont inscrites, soit 30% plus que l'édition précédente. Pour nous, c'est signe de l'engouement grandissant des entreprises d'ici pour l'automatisation industrielle!
À nouveau cette année, toutes  les solutions d'automatisation d'emballage dont les entreprises d'ici ont besoin ont été présentées : allant des emballeuses à pellicule étirable aux scelleuses de boîtes en passant par les cercleuses.
Pour demeurer à l'avant de la parade et pouvoir continuellement apporter des innovations à notre clientèle, on a fait le choix d'amener de la nouveauté à chaque édition, exprime Yvan Lapointe, Directeur général – Ventes & Marketing.
Une emballeuse complètement automatisée était en démonstration pour cette 4e édition.
Il était important pour nous de pouvoir exposer des solutions d'automatisation complète. Pour plusieurs ce peut paraître hors de portée, mais en la voyant en action et en échangeant avec nos experts-techniciens sur place, ils sont à même de réaliser le gain énorme en productivité que cet ajout à leurs opérations peut amener tout en rencontrant des ROI réalistes et qui rejoignent leurs objectifs, ajoute M. Lapointe.
Les emballeuses à pellicule étirable en démonstration sont celles développées par le leader mondial Robopac. Celles-ci intègrent une technologie brevetée (Cube Technology) permettant d'optimiser la consommation de pellicule étirable. Avec cet attribut unique sur le marché ces emballeuses présentent un rendement nettement supérieur à d'autres emballeuses comparables : le retour sur investissement (ROI) est accéléré et l'empreinte environnementale est réduite (moins de rejets de pellicule).
Un autre segment important de cette 4e édition était toutes les solutions dédiées à la mécanisation ou l'automatisation de l'emballage pour le commerce en ligne. Plusieurs nouveautés de Sealed Air y ont été présentées. Différentes stations ont été mises sur pied pour, entre autres, démontrer des lignes complètes d'emballage pour l'envoi de colis par courrier. Plusieurs solutions qui permettent de produire sur demande du papier, des sacs à air, des bulles et même des enveloppes sur demande étaient aussi sur place.
Bien que plusieurs entreprises manufacturières ne soient pas encore rendues à vendre en ligne, un bon nombre d'entre elles voient le nombre de colis expédiés par jour à leurs clients augmenter de façon vertigineuse, explique Jocelyn Legault – Directeur des services techniques.
De plus, pour accompagner les clients dans leur virage en ligne, CARTIER propose des tests de validation de performance en plus des services d'optimisation de colis dans son laboratoire. L'entreprise peut aussi accompagner ses clients dans le processus de certification des emballages pour Amazon étant récemment admise au sein du réseau APASS d'Amazon (Amazon Packaging Support and Supplier Network).
Nous sommes fiers de cette distinction additionnelle, d'autant plus que nous sommes la première entreprise au Québec dédiée à l'emballage à rejoindre ce réseau. De plus, nous sommes les seuls à pouvoir offrir un service d'optimisation et d'ingénierie, en d'autres termes, des solutions d'emballage validées lorsque les tests échouent, ajoute Jocelyn Legault.
Finalement, cette édition n'aurait pas été complète sans souligner le premier anniversaire de lancement de Jules : la technologie 4.0 exclusive à CARTIER.
Celle-ci permet de veiller en temps réel sur la performance des emballeuses. Quand le plan de match et les paramètres ne sont pas respectés, un technicien chez Cartier reçoit aussitôt une alerte. Des démarches sont ensuite prises par le technicien pour corriger la situation. L'objectif est d'éviter que la recette d'emballage ne change et ne mette en péril la marchandise. Les participants ont pu observer, ce jour-là, plusieurs tableaux de lecture en temps réel lié à des connexions actives de Jules auprès de notre clientèle.
Avec le succès qu'a connu cette édition, il est évident que l'équipe de Cartier s'aligne pour recommencer l'an prochain!
CURIEUX ? VOYEZ L'ÉVÉNEMENT EN IMAGES
The Cartier team also suggests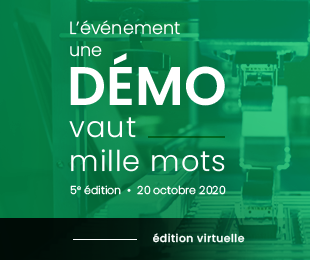 Equipment
Categories: Événement
For the fifth consecutive year, CARTIER will be holding its polpular Equipment Event (A demo is worth a thousand words ) and, this year,  the formula will be VIRTUAL. On October 20th, you will be able to visit over 30 booths and attend 11 live demonstrations.
En savoir plus >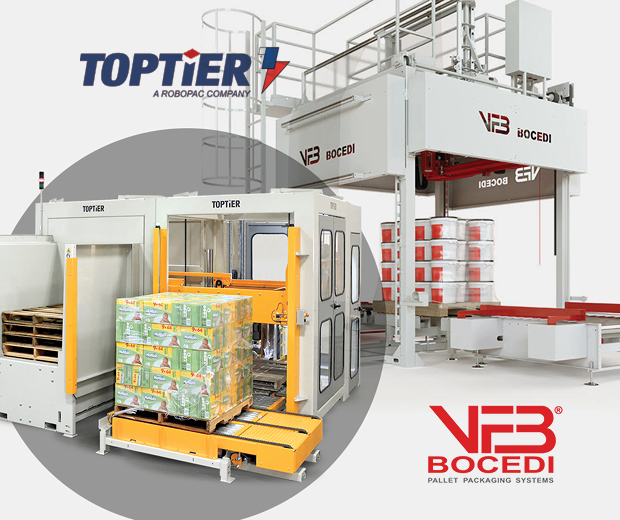 Equipment
Categories: Equipment, Press Release, Revue de presse
CARTIER, Packaging. Optimized. has expanded its offer of packaging equipment and solutions to incorporate products from world leaders Bocedi and TopTier into its already wide selection.
En savoir plus >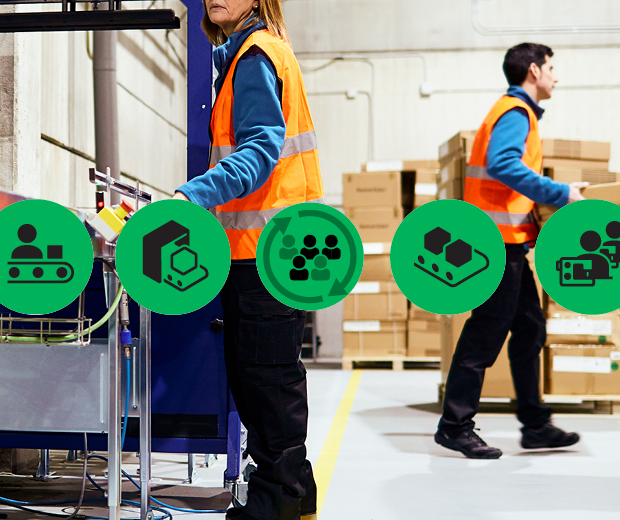 Equipment
Categories: Equipment
How are you coping with the labour shortage? By automating your packaging processes, you can free up employees to reassign to value-added tasks. Discover the many advantages of automation for SMEs in the current business environment.
En savoir plus >