CARTIER
Get integrated packaging optimization
CARTIER has a unique offer in Canada. We are the only company in the packaging industry providing four, perfectly integrated and complementary areas of expertise: laboratory, equipment, technical and products. This innovative business model covers all crucial aspects of the optimization process and enables CARTIER to deliver added value in everything we do. The resulting packaging optimization helps our clients improve their productivity, profitability and competitiveness in both the short- and long-term.
A client-centric approach
In order to help our clients achieve the best possible results, we are constantly developing attractive offers and programs to help you benefit from our expertise.
Our commercial agreements secure our stock of packaging products and enable better cost and inventory control. They also come with economic monitoring, provided by our experts.
Our E3 program for stretch wrapping optimization is integrated into our service offer. We regularly verify that equipment is working properly and apply improvements, as needed. This program generates tangible results in terms of efficiency, savings and the environment.
Our personalized financing options enable you to buy high-performance equipment at flexible rates and conditions.
Thanks to this innovative global approach, we offer comprehensive expertise that will quantifiably boost your performance across the entire logistics chain. With each mandate, we demonstrate that optimizing your supply chain is a cost-effective way to greather profit!
A redesigned brand image
In order to reflect the dynamic and unique nature of our business model, CARTIER has revealed a strong and ambitious new brand. This new image illustrates both the vitality and ingenuity of the company, as well as the nature of our activities and our desire to always be one step ahead of our clients' needs. It is also supported with an elegant signature – Packaging. Optimized. – to communicate the strength of our expertise and the culmination of our work. Expertise that takes leaders even further.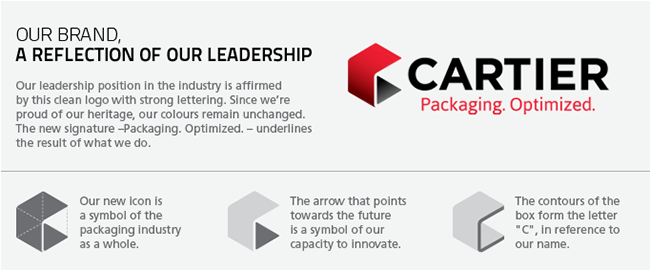 A heritage that we're proud of
Since it was founded in 1980, CARTIER has never stopped innovating. The company established by Lise and Jean Cartier, as well as Jean-Claude Meunier, has always invested in developing, validating and expanding our offer to better support clients as they evolve and grow their business, and establish their companies as leaders in their industry.
The founders' entrepreneurial spirit lives on in CARTIER's current management team and employees; everyone is driven by the desire to keep building on our devoted and interesting common history.