Genesis Cube rotary ring wrapper
Thanks to Robopac Sistemi's extensive industry experience, the GENESIS Cube, fully automated rotary ring wrapper represents a new generation of machines.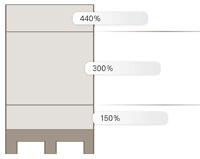 The GENESIS Cube, with its very high production capacity, can wrap up to 135 pallets per hour under specific cycle and size conditions.
The GENESIS cube was designed to easily integrate an existing production line thanks to its compact design that takes up very little floor space.
GENESIS Cube's high performance is apparent with its varying ratio capabilities, fully operated via the control panel, different pre-stretch values can be programmed for an entire cycle, allowing for uninterrupted wrapping.
Genesis Cube layout

Main features:
| | | |
| --- | --- | --- |
| |   | Patented, motorized external carriage system can be programmed to define, continuously and precisely, pre-stretch ratios from 150% to 400%. |
| |   | Ring lifting is entirely commanded from the control panel. The 4-chain mechanism ensures a safe, synchronous operation, all the while being able to control the Up\Down speed of operation. |
| |   | Superior design and strength of ring components, along with the size and planarity of the rotating ring, ensure longevity of moving parts for high-speed operations. |
| |   | The clamp and cut system, equipped with pneumatic control, heat-cuts plastic wrap and ensures final seal to end of wrap. |
| |   | Control panel comes equipped with touch-screen for all main functions for the rotary ring stretch wrapper. |
Options available*:
| | | |
| --- | --- | --- |
| |   | Automatic roll changer: without any operator intervention, the machine will release empty cardboard core and replace with new roll of plastic wrap. |
| |   | TOP SHEET COVER: the top sheet device will place plastic atop pallet during wrap cycle, eliminating any productivity loss of machine. |
| |   | Elevator: when installed in central part of the conveyor, this option allows entire pallet to be wrapped. |
*Contact us for more information on options available on the GENESIS Cube Rotary Ring.