Helix rotating arm
Helix fully automated, rotary arm stretch wrapper are a series of machines adapted to your high volume production needs.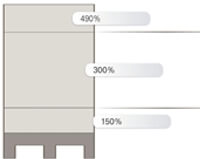 Helix stretch wrappers production rates vary from 65 pallets an hour with the Helix1 model, and up to 145 pallets an hour with the Helix4/2.
Helix models are ideal for wrapping light, unstable and easily deformed loads. Their computerized modularity ensure adaptability – 3 single arm models and a double-arm model are available.
The fully automated rotary arm, HELIX, offers varying pre-stretch ratio possibilities for each wrap cycle, controlled via the control panel. Hence, different ratios can be pre-programmed, without interrupting the wrap cycle. Since the load is immobile, spill risks are virtually eliminated during wrapping.
MAIN HELIX MODELS

Helix 4 featureS:
| | | |
| --- | --- | --- |
| |   | First type of carriage option: The 2 roller, pre-stretch motorised carriage allows fixed rate ratios via its manually interchangeable cogwheels. Pre-stretching ratios available from 64-300%. |
| |   | The 2nd type of carriage option available is a patented electronic unit. Independently motorized double rollers allow precision adjustments of pre-stretch ratios from the control panel, with values ranging from 150 to 400%. |
| |   | The carriage-lifting system is a double chain system with continuous, varying Up\Down speeds, controlled from the control panel.Variance in overlap of wrap can be controlled in both up and down cycles. |
| |   | Rotation Unit constructed of robust, solid tubular steel, assuring the machine performs even in difficult conditions. Controlling the speed of rotation of the actual arm allows great speeds to be reached while minimizing wear and tear of mechanisms in motion. |
| |   | The patented, spring-loaded, pinch and cut system, heat-cuts the plastic wrap and also performs the final seal to edge of plastic wrap. |
OPTIONS AVAILABLE*:
| | | |
| --- | --- | --- |
| |   | For TOP SHEET application: practical for unstable loads, 2 options are available; TOP INSIDE: sheet is cut, picked and positioned from within the machine. TOP OUTSIDE: this version uses a roll of plastic positioned on floor outside of machine, facilitating replacement of roll. |
| |   | Top Platen Unit: Used in conjunction with the Top Sheet option-in either pneumatic or mechanical version. |
| |   | Corner boards: when inserted in the central part of conveyor, this option enables an entire wrap cycle of wood pallet. |
*Contact us for more information on the options available for the Helix Rotary Arm from Robopac.