ISTA Forum: the annual event you can't miss!
25 March 2019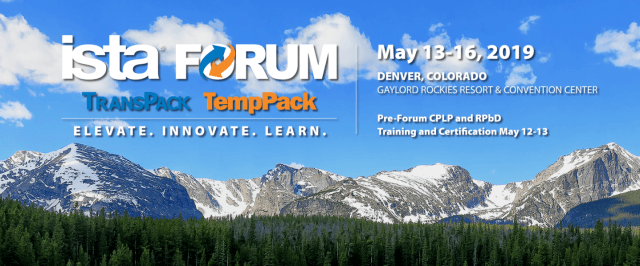 The ISTA Forum is a must-attend event year after year for CARTIER, and several members of our team are looking forward to being there once again in 2019, with this year's Forum taking place in Colorado on May 13–16. The ISTA Forum is a major packaging industry event bringing together more than 350 leading experts in packaging and distribution. The Forum delivers four information-packed days to help attendees stay abreast of the latest trends in packaging and optimization and provide them opportunities to network with other professionals who share their vision and face similar challenges in their respective industry sectors.
This year, the ISTA Forum is combining two packaging events under a single roof: TransPack and TempPack.
| | | |
| --- | --- | --- |
| |           | |
| TransPack will feature numerous presentations, case studies, and sessions on research outcomes and proposed solutions led by world-renowned experts in optimizing packaging for transportation. |       | TempPack will focus on technical topics relating to packaging performance at controlled temperatures. Expert speakers from the industry will share their viewpoints, past challenges, case studies and research outcomes having direct impact on our industry. |
WHY ATTEND?
To keep informed about the latest packaging trends
To make new business connections
To learn more about optimizing packaging for transportation
SELECTED FORUM TOPICS
Supply chain and the Internet of things (IoT)
One-dimensional computer simulation of over-the-road truck floor movement
Automating end-of-line packaging for the logistics chain
Utilizing virtual reality to implement package design and improve consistency
Defining packaging performance through transportation testing
Polyethylene packaging repurposed as value-added e-commerce consumer packaging
The economy's impact on freight movements
Click here to view the complete list of conference topics.
The long list of renowned speakers taking part in the Forum includes James Chrzan, VP Content and Brand Strategy, PMMI Media Group; Katie Exum and Gary Dong, Packaging Engineers at Amazon/Lab126, Bill Green, Senior Technical Staff Member – Packaging Technology, IBM; and Patrick McDavid, Instructor, Michigan State University School of Packaging. Click here for the complete list of Forum speakers.
LET US KNOW YOU'RE ATTENDING!
Are you planning to attend the ISTA Forum? We'll be there too and would love to meet you. Let us know that you'll be there!
—
ISTA's TransPack and TempPack Forum
May 13–16, 2019
Gaylord Rockies Resort & Convention Center, Aurora, Colorado, United States
—
For more information about this event, click here.
To register for this event, click here.