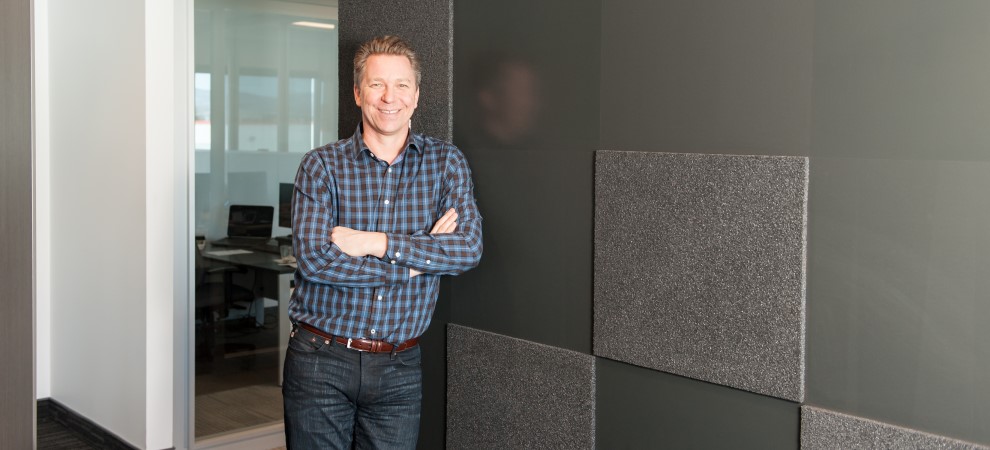 Discover CARTIER's new offices, a reflection of our new image
Last update: 16 July 2018
Estimated reading time: 3 minutes
Categories: Culture & Innovation
Visit CARTIER today and you will discover glass-in offices bathed with natural light, collaborative spaces, a modern cafeteria and a gym. We are very proud of this transformation, created with the help of Exa Design.
In February 2015, CARTIER transformed its business model to become "CARTIER Packaging. Optimized." This innovative brand image reflects the company's new positioning based on four complimentary areas of packaging optimization expertise.
Shortly thereafter, CARTIER began a complete renovation of its 23,000 sq. ft. of office space, inspired by the company's brand image change.
Changes that reflect our identity
The spaces were designed and developed to convey our values and our mission. This new signature reflects our new visual identity:
The spaces have been updated and optimized with black and white as the background, and different accent colours specific to their graphic signature. Several architectural details are inspired by packaging, said  Faye Dea-Jalbert, Interior Designer and Partner at Exa Design.
To be consistent with the social conscience conveyed by packaging optimization, several packaging materials sold at CARTIER were used and integrated into the office design. The offices are completely glassed-in so that daylight, an important element to overall well-being, illuminates them naturally.
There are private and semi-private offices, a bistro space with banquettes, meeting rooms, a gym and most importantly, several collaborative spaces.
It was important for me to create collaborative spaces, said David Cartier, Several areas were designed to stimulate creativity, sharing and quality exchanges. I am happy to walk through the offices and see meetings taking place in La Vitrine (showroom) or in the cafeteria; it breaks convention.
In addition to three large meeting rooms, the CARTIER team has access to two entirely glassed-in cubes as well as lounges for smaller meetings, training or just for a change of work environments.
Working standing rather than sitting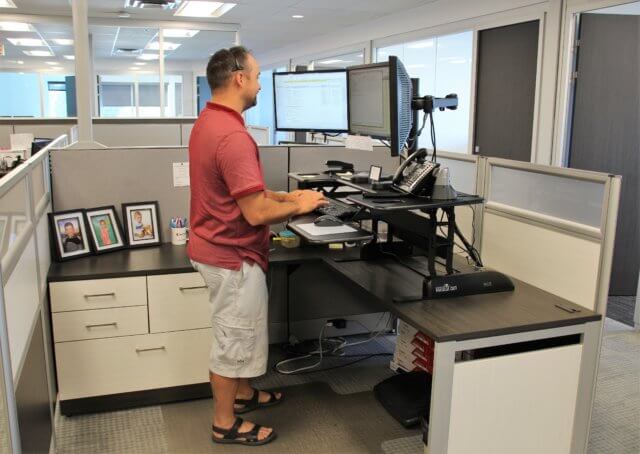 Working standing up rather than sitting down has been shown to have several advantages. It minimizes back problems and facilitates concentration. Several of our office stations therefore can be adjusted for both positions. Seven employees already enjoy this feature, and the option of standing up is becoming more and more popular. It wouldn't be surprising if several more adjustable stations are installed before the end of the year.
An important place for local artists
Since modern offices can sometimes appear cold, David Cartier wanted to add an artistic touch. What a wonderful opportunity to encourage local artists! So far, the paintings selected are coherent in their surroundings, since each one represents either a value, a team or a goal to be achieved. 
It is essential for me to encourage remarkably talented local artists, said CARTIER's President. This is why all of the paintings in our offices have been sourced locally. I involve the employees in the choice of paintings; I always ask them what they think!
Employee well-being first and foremost 
CARTIER's employees are its very essence. Ensuring their well-being is therefore a priority. The company values continuous learning and offers training to provide deeper understanding and the opportunity to specialize.
It is important that people can achieve their full potential through their work, said Mr. Cartier. 
When it comes time to make changes, the decision process always takes into consideration employee well-being, and involves the employees themselves. This makes people want to become more involved, to take on projects or to participate in committees. Several innovations in the office renovation are proof of the desire to create a beautiful environment, such as the gym. Everyone is certainly satisfied, if not thrilled, with the new office space!   
Discover the CARTIER world by viewing a few of these images of our new environment.
The Cartier team also suggests

Culture & Innovation
Categories: Culture & Innovation, E-commerce, Écoresponsabilité, Equipment, Event, Laboratory, Leadership, Press Release, Products, Revue de presse, Technical, Témoignages, Testimonials
En savoir plus >

Culture & Innovation
Categories: Culture & Innovation, E-commerce, eCommerce, Écoresponsabilité, Equipment, Événement, Event, Laboratory, Leadership, Press Release, Products, Revue de presse, Technical, Témoignages, Testimonials
En savoir plus >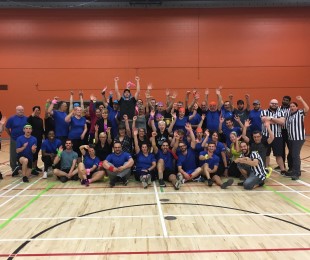 Culture & Innovation
Categories: Culture & Innovation
Si vous vouliez parler à un expert de chez CARTIER, le 14 juin en après-midi, il fallait assister à la deuxième édition des Olympiades CARTIER, au Complexe sportif de Saint-Césaire ! Ce jour-là, aucun employé n'était à son poste de travail. Les portes étaient même fermées pour cet événement attendu avec impatience.
En savoir plus >