Update on the COVID-19 situation
Last update: 25 May 2021
Estimated reading time: 1 minutes
Categories: Culture & Innovation, E-commerce, Écoresponsabilité, Equipment, Événement, Event, Laboratory, Leadership, Press Release, Products, Revue de presse, Technical, Témoignages, Testimonials
Dear Clients,
We take the COVID-19 pandemic very seriously and continue to monitor its developments on a daily basis. CARTIER has established a Crisis Committee to adopt preventive measures in order to protect our employees and monitor the situation through its evolution. Our priority is to take the necessary actions to limit the spread of COVID-19 in our employees and ensure our operations.
Please note that CARTIER is fully operational and ready to meet your needs. We remain proactive and have implemented measures to deal with the various possible upcoming scenarios and put in place emergency plans to minimize any interruption in our services.
Each one of our strategies is in line with governmental measures.
Although it is impossible for anyone to predict the spread of COVID-19 and fully understand its impact, this does not change the fact that CARTIER has taken leadership in this crisis to continue serving you.
Please accept, dear Clients, the expression of my distinguished feelings.
New Update on the COVID-19 situation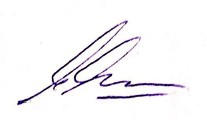 Ghislain Demers
General Manager
Cartier, Packaging. Optimized
The Cartier team also suggests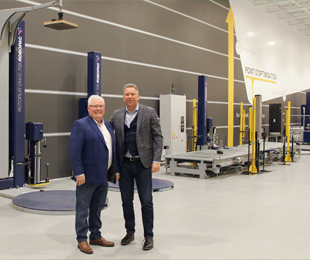 Culture & Innovation
Categories: Culture & Innovation
"This acquisition is fully aligned with our vision to be a leader in environmentally responsible packaging solutions in Eastern Canada for manufacturing industries and distribution centers that wish to optimize their secondary and tertiary packaging," says David Cartier, President of CARTIER Packaging.
En savoir plus >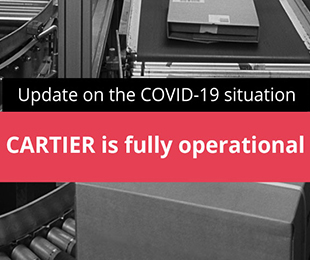 Culture & Innovation
Categories: Culture & Innovation, E-commerce, eCommerce, Écoresponsabilité, Equipment, Événement, Event, Laboratory, Leadership, Press Release, Products, Revue de presse, Technical, Témoignages, Testimonials
En savoir plus >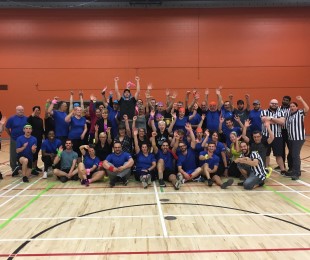 Culture & Innovation
Categories: Culture & Innovation
Si vous vouliez parler à un expert de chez CARTIER, le 14 juin en après-midi, il fallait assister à la deuxième édition des Olympiades CARTIER, au Complexe sportif de Saint-Césaire ! Ce jour-là, aucun employé n'était à son poste de travail. Les portes étaient même fermées pour cet événement attendu avec impatience.
En savoir plus >