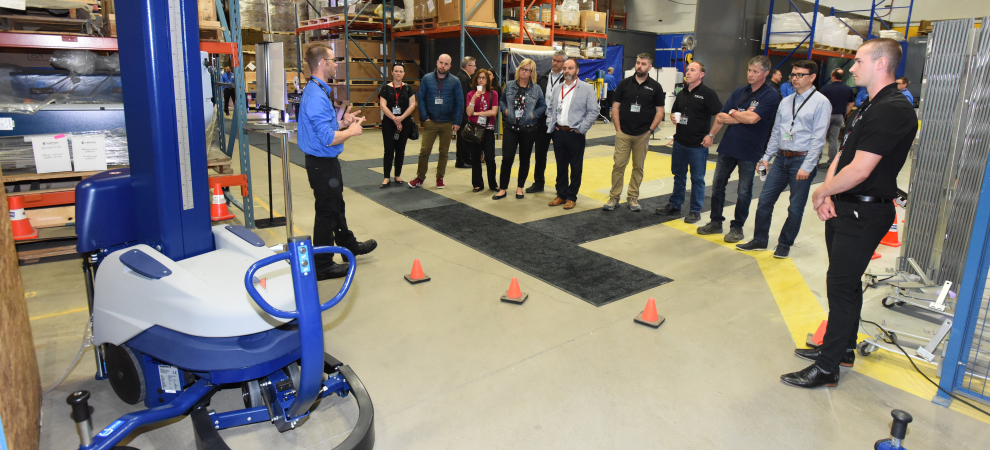 Juste à temps pour vos projets d'automatisation: la journée Une démo vaut mille mots!
Last update: 27 March 2019
Estimated reading time: 3 minutes
Categories: Event
Pour une quatrième année consécutive, l'événement équipement qui a cumulé un taux de participation record l'année dernière aura lieu le mercredi 8 mai prochain. L'événement équipement – Une démo vaut mille mots est un événement faisant la promotion de l'automatisation en exposant sous un même toit plusieurs solutions d'automatisation d'emballage.
L'année dernière, plus d'une centaine de participants ont répondu à l'appel. Avec les enjeux liés à la pénurie de main-d'œuvre et le besoins criant qu'ont certaines entreprises de s'automatiser, il n'est pas surprenant que cette formule gagne en popularité d'année en année !
Cet événement permet de montrer les nombreux  bénéfices des équipements via de réelles démonstrations. Les participants peuvent établir leur parcours selon leurs intérêts. Les démonstrateurs sont des Experts-techniciens, des Chargés de projets ainsi que des Chargés de comptes chez Cartier qui partagent leurs connaissances. Couvrant l'ensemble des questionnements, les participants sont ainsi mieux outillés pour prendre des décisions éclairées.
Réservez vos billets dès aujourd'hui, car ceux-ci partent plus rapidement que vous ne vous l'imaginez!
LES DIFFÉRENTS PARCOURS QUI SERONT PROPOSÉS :
DU NOUVEAU POUR CETTE 4E ÉDITION!

Vous avez récemment changé le format de vos emballages pour envoyer votre marchandise par courrier? Vous songez à vous lancer dans la vente en ligne ou vous le faites déjà?
Le Laboratoire de CARTIER vous offre en exclusivité, et cette journée seulement, la possibilité de mettre vos colis à l'épreuve selon les protocoles de tests normalisés d'ISTA.
Le  tout vous est offert GRATUITEMENT!
Voyez par vous-même la performance de vos emballages alors que nos ingénieurs et techniciens les testent sous vos yeux.
Manifestez votre intérêt lors de votre inscription. Les places pour cet atelier sont limitées.
UNE DÉMO VAUT MILLE MOTS EN 4 POINTS :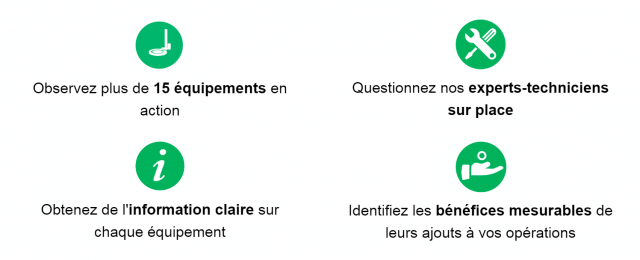 Démonstrations réelles et par vidéos, promotions, exclusivités et technologies 4.0, simulations du laboratoire d'essai et solutions pour e-commerce seront au cœur de cette journée.
VOUS N'ÊTES TOUJOURS PAS CONVAINCU ?
REGARDEZ L'ÉDITION DE L'ANNÉE DERNIÈRE EN IMAGES
Vous souhaitez prendre les bonnes décisions pour vos projets d'automatisation, augmenter votre productivité et avoir un meilleur contrôle sur vos coûts? L'événement Une démo vaut mille mots est pour vous!
Pour vous inscrire à l'événement : cliquez ici
The Cartier team also suggests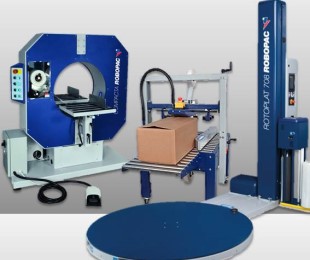 Equipment
Categories: Equipment, Technical
Purchasing packaging equipment can be a major investment for your company. How can you be sure you're investing in the right equipment? By leasing before you buy! Take advantage of this option available at CARTIER.
En savoir plus >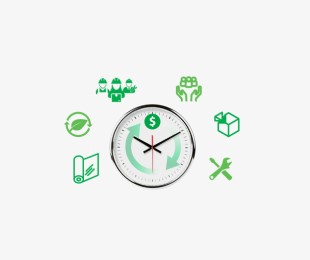 Equipment
Categories: Equipment
Are you wondering whether it pays to buy a wrapping machine? To calculate return on investment (ROI), it's important to take into account the many benefits of this purchase and consider all potentially determining factors.
En savoir plus >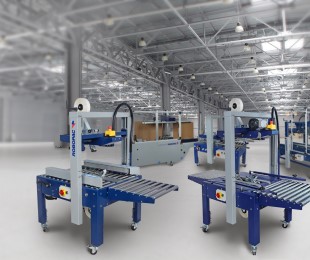 Equipment
Categories: Equipment
It can be challenging to identify the best sealing system for your specific needs with such a variety of brands and models available on the market. Our team has studied this issue and assembled a list of six factors to consider when the time comes to purchase a case sealer.
En savoir plus >