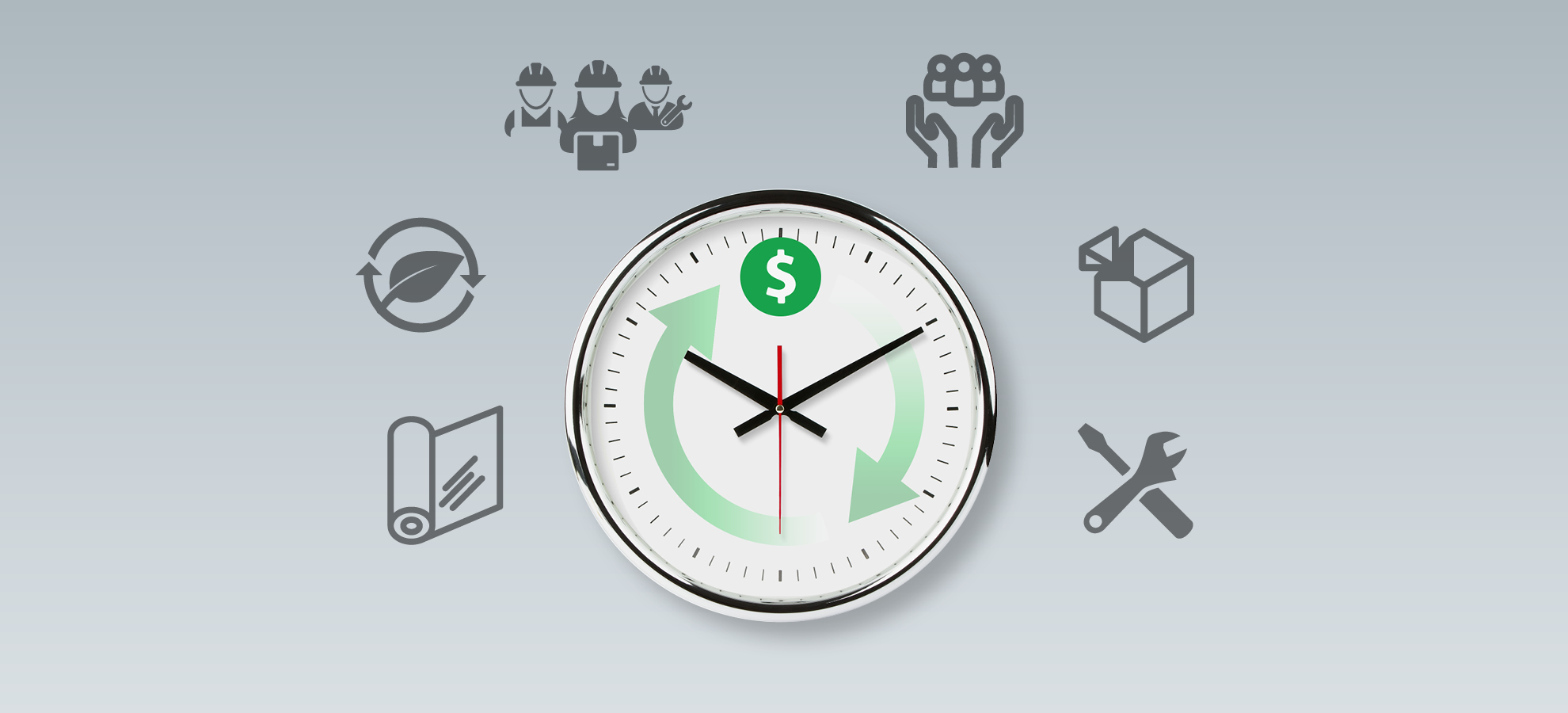 Your ROI: will it be faster than you thought?
Last update: 25 October 2018
Estimated reading time: 5 minutes
Categories: Equipment
Are you wondering whether it pays to buy a wrapping machine? To calculate return on investment (ROI), it's important to take into account the many benefits of this purchase and consider all potentially determining factors.
When the time comes to purchase a new piece of equipment, one of the first questions that comes to mind is: what will be my return on investment (ROI)?
It's an entirely fair question, since that's one way to confirm that your choice makes financial sense for your company.
It's also especially important considering the fact that the consumable (the film) used in stretch wrapping machines can also be a determining cost factor.
To assist you in choosing a wrapping machine, we suggest taking into account the following six factors when calculating ROI and making a decision.
1.The consumable
Have you been keeping track of how much stretch film your current machine uses? Have you thought about the film consumption of your next purchase?
Based on our experience, this question is rarely raised, although its impact can be significant.
In any case, the concept is fairly simple. Film is priced by the pound. Your unit packaging cost will depend on factors including the quantity of film you apply. This can vary depending on things such as the film gauge and the packaging recipe, theheight of the roll and, most importantly, the pre-stretch ratio.
The following table compares the same type of film using different ratios.

Savings: 26.3%
In this situation, it isn't a matter of simply increasing the ratio to the maximum (which depends on the recipe and the film's stretch capacity) but rather incorporating this variable into the equation.
Some equipment, such as the Robopac machines with Cube Technology, allow for adjustment of pre-stretching to different levels for an optimal recipe that applies the minimum necessary amount at strategic locations. This technology can generate savings of 30% to 55%.
Remember not to confuse pre-stretching and tensioning. Pre-stretching is the process whereby film is stretched before it comes off of the rolls, on the carriage, using gears or motors. This process helps to keep film usage down while also enhancing the properties of the plastic and keeping the load immobile due to its elastic memory.
Tensioning refers to stretching action applied as film comes off of the carriage to increase the film force.
2. Eco-responsibility
When you purchase a new wrapping machine, you generally reduce your film consumption significantly – along with your environmental footprint.
While the impact of this is not always calculated in financial terms, it can certainly be analyzed in terms of the carbon balance. Moreover, some companies in highly controlled industries are even taxed on the volume of discarded material and production waste. These are all good reasons for reducing impact in this area. 
3. LABOUR
This involves carrying out a time and motion analysis of the original packaging task and then comparing it to analysis of the same task after adding the new equipment. You can then use the total time your crew spends on packaging to calculate the overall productivity gains.
Besides this calculation, it's important to identify any non-valued-added tasks performed by your employees. What could they be doing instead of wrapping pallets by hand (in mechanization scenarios)? What could they be doing instead of waiting for a packaging cycle to complete (in scenarios involving replacement of equipment by a fully automatic machine)?
4. Occupational health and safety
Although difficult to assign numbers to, the human factor should be a key focus when deciding on a purchase.
A wrapping machine is often safer than manual wrapping. The latest systems are highly sophisticated and address CNESST safety criteria. In addition, it is always wiser to automate an action than to have an employee perform repetitive movements that could cause stress or even injury. At companies that wrap 10 or more pallets a day, risks to employees rise to significant levels, making it time to consider automating your wrapping process.
5. Breakage and loss
It's a frequently overlooked factor, but breakage or loss of goods due to inadequate wrapping also needs to be taken into consideration.
Simply using a wrapping machine instead of wrapping your products by hand can enhance the reliability of your wrapping processes in addition to improving pallet integrity during shipping, not to mention standardization!
Did you know that shipping and wrapping-related losses typically correspond to 2% of total sales? And the latest articles on this topic point toward figures as high as 5 to 10%. Consider the unnecessary waste that this means for your company as well as the environment!
6. Maintenance costs
It is especially important to take this expense into account when a company is considering replacing existing wrapping equipment. For example, how much time and money have you spent on equipment maintenance over the last several years?
The rule of thumb for a vehicle is, would you hang on to a car that costs you more than $1,000 a year to maintain? The same principle applies to a wrapping machine.
We encourage you to review this list and take all of these factors into account before upgrading your equipment. Our expert team is able to customize return on investment calculations to reflect your unique situation.Based on this ROI analysis, you can then make an informed decision.
In the context of the current labour shortage, we sometimes are seeing companies ruling out the most cost-efficient option and going with the most strategic option instead.
Regardless, it's a decision you need to make. And we're here to supply the information you need in order to make your choice.
Do you want to calculate the ROI on purchasing a wrapping machine? Contact us and we will help!
The Cartier team also suggests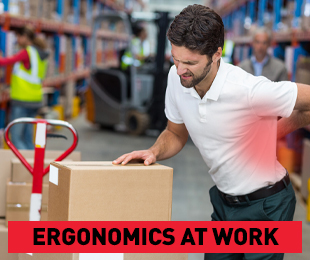 Equipment
Categories: Equipment
The well-being of your employees at work is a critical issue for most companies: among other things, it motivates employees to perform their tasks as well as possible. In times of labor shortage, it becomes even more important to take care of your employees in order to keep them for a long time. With few employees in the job market and multiple offers, they can afford to raise their expectations. This is why working conditions are becoming primordial, and why employers are trying to differenciate themselves from each other. It is possible to improve these conditions in several ways, starting with adapting the various workstations to make them ergonomic and safe. Here's how to improve the ergonomics of your work place to reduce the risk of musculoskeletal disorders (MSDs) among your teams.
En savoir plus >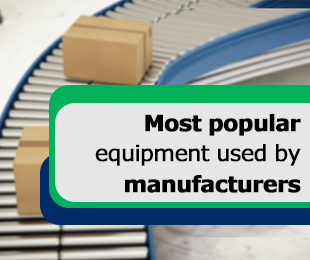 Equipment
Categories: Equipment, Technical
Shortage of labor being greatly felt in most industries, many of our clients decide to go for automation to save time but also to reduce work pressure on their current employees. We cannot deny the fact that the greater the need for manpower, the more employees have to fill this gap by working harder. Therefore, many companies decide to invest in automatic or semi-automatic equipment. Obviously, some machines are more popular than others, for several reasons. Very often, semi-automatic equipment is the first choice of clients as the initial investment is lower.
En savoir plus >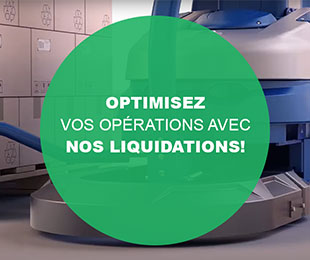 Equipment
Categories: Equipment
All or our Robots S6 are now on sale! The equipment is in stock, so it'is ready to be delivered and get started into yout operations. Buy now and avoid the 4% to 8% price hikes scheduled for July 1, 2021.
En savoir plus >